World Water Day in Yorkshire
This date has been marked annually since 1993 by the united nations and this year all four case study areas had activities and events in celebration of this day. Here in Shipley, Yorkshire we held a screening of several films reflecting on the local and global relationship we have with water.....
The main feature was Watermark (2014), the award-winning documentary film full of stunningly beautiful images. Brings together diverse stories from around the globe about our relationship with water: how we are drawn to it, what we learn from it, how we use it. We witness how humans are drawn to water, from the U.S. Open of Surfing in Huntington Beach to the Kumbh Mela in Allahabad, where thirty million people gather for a sacred bath in the Ganges at the same time. We see massive floating abalone farms off China's Fujian coast and the construction site of the biggest arch dam in the world. We visit the barren desert delta where the mighty Colorado River no longer reaches the ocean, and the water-intensive leather tanneries of Dhaka.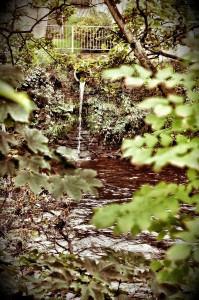 As a short "curtain-raiser", we screened a much more local film, Wading to Shipley (2013). It traces a journey along the hidden reaches of Bradford Beck as it flows towards Shipley, revealing a surprising landscape…
Also a local retired civil engineer come film producer brought his own contribution for screening (untitled, 2015)...made in his own home using his wife's plants that thankfully he did not kill in the process of trying to film a time lapse of a plant dehydrating!  
People from Shipley village and surrounding area came to the event and all enjoyed a few drinks and some cake. An informal introduction to the Hydrocitizenship project was made and discussions before, during and after the films were enthusiastic.
Some of the comments are presented here; 
"The interesting part was the boy in the rice fields saying people were stealing his water. No-one owns the water..."
"It avoided moralising and just presented the facts. Very impressive."
"The dam looked like something from a science fiction film."
"Breathtaking."
Some of the viewers are also interested in developing a community group to support the Shipley project. Unfortunately not many photos could be taken in the darkened room! Further information on this will follow in due course.